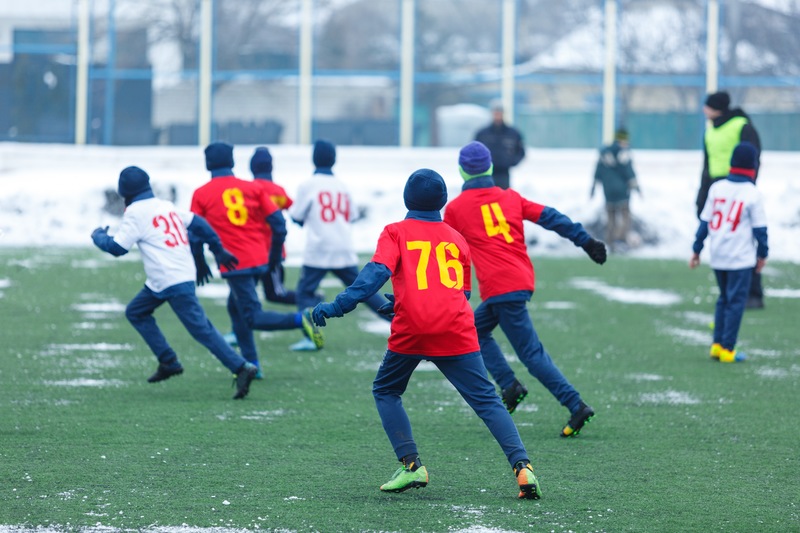 Spring is right around the corner—but for many of us, a few weeks (or months) of cool weather remain before the sunshine sets in! Fortunately, the cold doesn't have to keep you from practice or your daily workout.
Just read on as we share a few simple tips for staying warm during practice, including cozy custom team apparel and much more. Take a look.
Layer up with custom gear
The key to outdoor exercise during the winter is to sport layers. You want to bundle up to prepare for the cold weather, while still being able to remove an outer layer or two once you (or the weather) have warmed up. Fortunately, SQ Apparel can help with this essential step! In addition to our comfortable, performance-focused custom soccer jerseys, we can provide you with hoodies, scarves, rain jackets, padded jackets, compression wear, winter hats and gloves, perfect for sporting your team colors while staying warm.
And of course, if you're working out in the snow, always be sure to wear fluorescent colors that can easily be seen through the winter weather!
Dress to stay dry
In addition to staying warm, one of the most important steps to successful winter workouts is to stay dry. Even when it's cold outside, you can still work up a sweat! Moisture-wicking fabrics are your friend for before, during and after your workout or practice session.
(Tip: Ask about SQ Apparel's moisture-wicking fabric collection, Squadry, for clothes that keep you comfortable and dry, no matter how cold it is outside!)
Switch up your routine
Depending on the weather outside, you may decide to switch up your winter workout by moving indoors (whether that be at a gym or an indoor soccer facility), or opting for shorter bursts of exercise in lieu of slower, chilly walks or jogs. It's all up to you.
Protect your skin from the sun
Sunscreen isn't just for summer days by the beach! If you're spending time outside this winter, slather on some sunscreen, a hat and shades to keep your skin safe and comfortable. This is also a great time to consider wearing fabrics with a tight, close-knit weave, which can act as a sort of natural sunblock from the rays above.
Stay hydrated
We often think of hydrating and getting plenty of H2O when it's hot outside, but it's just as important to drink plenty of fluids during winter. In fact, water will help you ward off effects of dehydration such as fatigue—the same sleepiness that can make you feel like curling up and staying indoors instead of enjoying your workout in the park!
We can't wait to help you achieve the ultimate cool-weather workout! Contact SQ Apparel today to get started with custom team apparel, jerseys and other options for your team, club or league.