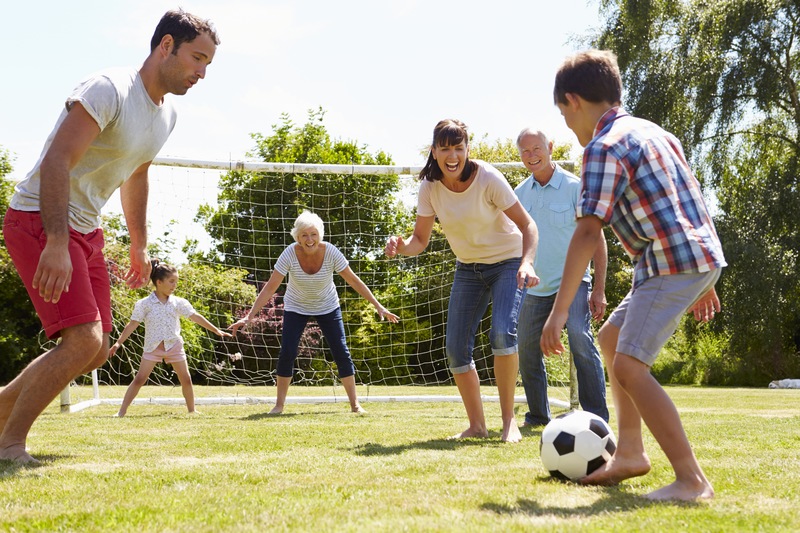 Is there any better feeling than kicking the ball around with family—not a care in the world, just enjoying the game for the thrill of it?
We can't think of one!
As it turns out, playing pickup with the family isn't just fun. For the kiddos especially, soccer offers a chance to stay healthy, build teamwork skills and even put classroom lessons to practice in meaningful ways. And that's just the beginning.
Read on as we explore a few of the biggest benefits of youth soccer and playing together as a family.
The thrill of learning… again and again
There's something so rewarding about learning something new—a song, a skill, or, in this case, a sport that's able to deliver a lifetime of memories. While helping your child learn the game of soccer, you get to enjoy the thrill of learning all over again. There's a reason why a love of soccer tends to run through families, after all. More than "just" a pastime, soccer is something you can pass down, like a treasured family tradition—and bringing your child out to the field for the first time offers the whole family a chance to rediscover the sport with fresh eyes.
A healthy hobby
The biggest benefit of youth soccer might just be the health of it all. The CDC recommends kids exercise for an hour every day, and this sport offers an unparalleled workout—the cardio of running, the leg strength that grows with every kick and pass, even the upper-body benefits of every throw-in and, if it's your spot, goalie save. (Who says soccer players don't use their arms?)
The best part of it all? When you're playing as a kid, none of it actually feels like a "workout." It's just play… pure fun! Participating in a local youth soccer league lets your child play regularly, but even outside of the season, you can get together and enjoy the sport as a family—play in the backyard, park, beach, you name it.
Health-wise, soccer also comes with the undeniable benefit of confidence, self-esteem and other important facets of mental health.
Better together
Teamwork is another big benefit of youth soccer. For many kids, it's one of the first places where they really learn the value of working together toward a common goal—literally—which is an experience they'll remember forever.
Even outside of a formal league, there's a lot to be said about playing soccer as a family. It's easy to be distracted in our everyday lives, but there's no room for screens, texts and emails in the middle of the field! You can even order matching Squadra uniforms for your crew, or for the youth league team once the season's back in session.
Beyond the classroom
These days, we're learning more and more that there is not always a clear line between "athletics" and "academics." Soccer is a prime example of this. For many of the lessons kids are learning in school, the sport offers a way for them to contextualize them in the real world—what better way to break down the basic concept of fractions, for example, than by illustrating it with the midfield line and the two halves of the field? On a similar note, shots at the goal can provide a great starting point for understanding geometric angles. These connections and "aha" moments are just a few of the fun ways soccer ties into academics in real, meaningful ways.
Now that you know the benefits of soccer for the whole family, get out and see them for yourself! For youth league wear and any other soccer gear you may need, be sure to contact Squadra Soccer today! We've got you covered.