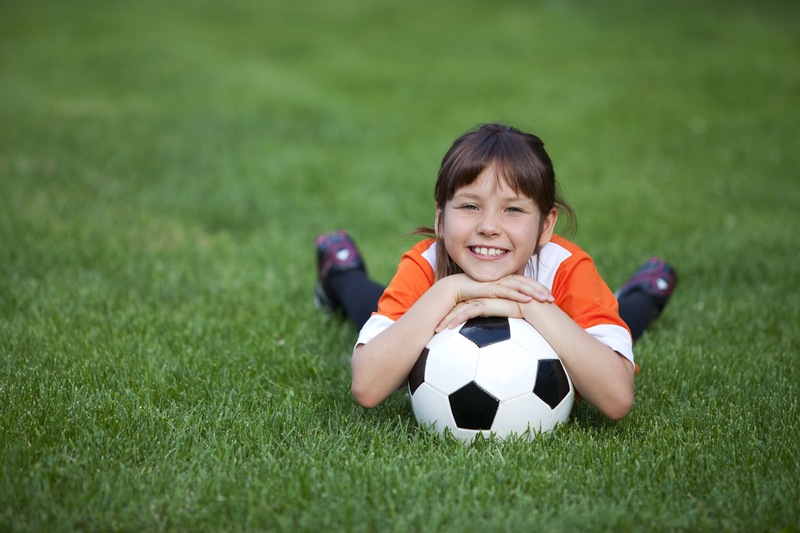 From a healthy mind and body, to the power of perseverance, meaningful memories and more, there are many benefits to playing soccer as a child! How do you help your child fall in love with this one-of-a-kind sport?
While organized sports are on hiatus across the globe due to COVID-19, we can't wait to once again enjoy our favorite sport with fellow fans and players—and, of course, our young kickers. Read on for some helpful tips on how to help your child love soccer.
Kick off the fun at home
A love of soccer can begin right at home. Even during this time of social distancing, you can still help kick off the fun at home by bringing the ball to your backyard for goal practice or dribbling contests! Another great way to stay safe and comfortable at home—all while still enjoying your favorite sport—is to play your favorite soccer video game together.
Lead by example
Sports, especially soccer, are as much about fun as they are physical fitness—so lead by example and help your child associate their new sport with laughs and positive memories! By emphasizing the thrill of playing soccer, and playing yourself whenever possible, you can show them the way.
Watch a game together
Watching a game together is a great way to show your child the ins and outs of soccer, all while enjoying some quality time with one another! Even though you can't currently catch a live match at the field, you can always watch famous soccer highlights online to get immersed in the game-day fun.
Be flexible
While you naturally want to share your love of the sport with your child, be open to their ideas and ways the game can be even more fun for them. You may love being a goal-scoring forward, for example, but perhaps your child feels more comfortable as goalie or vice a versa. Whatever the case may be, opt for flexible fun that encourages your child to dribble out their own path.
Help your child sport their spirit
Children—and all of us, for that matter! –love having something that is uniquely theirs. Custom soccer jerseys give them the chance to stand out and show off their favorite colors, number or even a team nickname, at practice, during the big game and beyond.
Tip: You can even help your child choose their one-of-a-kind jersey with our online customizer tool, all from the comfort and safety of home. This feature is free to use and doesn't require any purchase - so even if you don't need uniforms right now, your child can have fun playing with different designs and color options to embrace their creativity. You can even share your family's masterpiece with us on social media @sqapparel!
We hope that these tips help you find fun, meaningful ways to introduce soccer to your child—whether you're looking for backyard bonding activities as you social distance, or dream about returning to the field and guiding your youth team to victory.