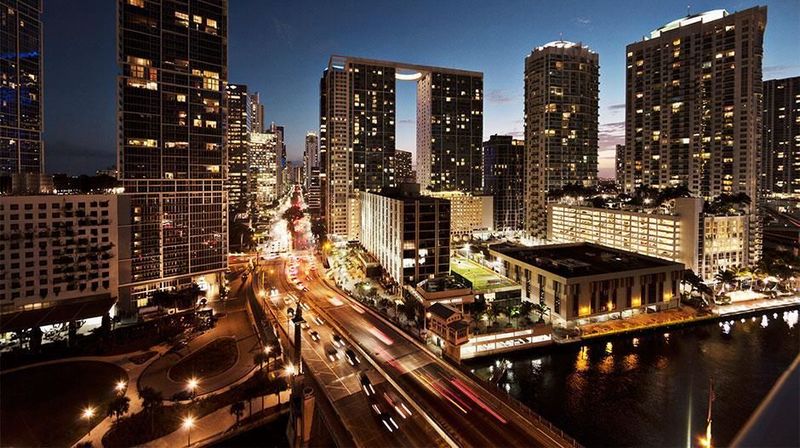 Want to bring your game to the next level? Climb up a few stories and enjoy soccer with a view: a 360-degree vista of a stunning city skyline…
That's the idea behind Miami's Rooftop Soccer, a popular pickup spot situated at the heart of downtown, where friends flock to play their favorite game in a one-of-a-kind environment. Playing here is just one of many ways to mix up your game and keep it endlessly fresh, fun and exciting… the way soccer should be!
Read on as we explore this unique destination, as well as a few more ways to switch up your soccer routine.
Miami's soccer scene
Miami, and much of South Florida, wears its love of soccer proudly. During the World Cup and other big games, you'll find bars, restaurants and just about anywhere with a TV crowded with fans in team colors, proudly cheering on their players.
On top of that, the region's year-round warmth offers chances to kick a ball around every day. Gorgeous green spaces and fields are abound here, but for those who live and work downtown, it's all about finding a spot that's nearby… while enjoying some of that classic charm and style the city's known for. Thus, Rooftop Soccer was born.
For friends, teams and parties who want a nearby solution—or just something outside of the "everyday"—this Brickell spot is just the ticket. Plus, who could beat that view? Look up and see the skyscrapers and sparkling lights that shape the famous cityscape, or relish in the ocean breeze—located on the Miami River which leads out to Biscayne Bay, you're never far from the gorgeous water views that make Miami a vacation hotspot.
Love the locale you're in…
Rooftop Soccer is Miami's solution to its unique downtown environment (and a climate where you'd actually like to be playing on a rooftop, all year long). But it's not the only city making the most of its landscape!
Take, for example, the one-of-a-kind floating soccer pitch and stage, Singapore's Float at Marina Bay. Here, a sort of "concrete jungle" dominates life on land—but access to water means games can be played anyway, on a floating platform made of steel strong enough to hold players, fans and equipment.
Or check out the beautiful Nassau Stadium, a Bahamian destination where beach soccer can be played on some of the island nation's famous sand (against a gorgeous tropical backdrop, no less).
The name of the game
All of these unique destinations make use of one simple mantra: have ball, will travel! And that's an idea worth sticking to. Even if you don't have a proper soccer field near you, you can get a lot out of makeshift settings—like your nearest beach, or even your own backyard where trees can sub in as goal posts. There's no limit to the ways you can play.
Almost as inspiring as our favorite on-the-field moves? The fields they're made on! We hope that today's virtual tour helps you get inspired as you seek out the next great place for a pickup game with friends.