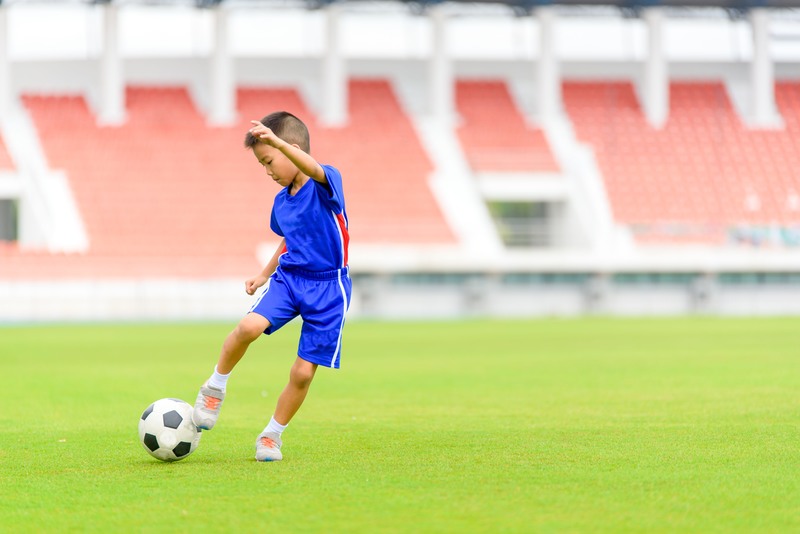 Summer is finally here—and you've probably never wanted to enjoy the great outdoors more! Fortunately, with a few simple tips, you and your family can safely enjoy the warm weather ahead. Take a look below for some of our go-to steps (including moisture-wicking custom soccer jerseys for total comfort and style).
Get an early start…
When you're trying to beat the heat, it can be helpful to get a head-start on your day of soccer fun! Head to your local park early in the day so you can avoid some of the day's highest temperatures and strongest sun rays—and potentially some of the summer storms that strike on hot afternoons. Plus, you will be able to kick, dribble and sprint with a potentially empty field, helping you steer clear of other players as you try to safely social distance.
… and plenty of H2O
A cool drink of H2O feels refreshing on a hot day—but it's important not to just drink up when you're feeling particularly warm or out of breath. Stay hydrated before, during and after your soccer session for ultimate safety, comfort and performance on the field.
Snack smart with hydrating foods
Every soccer player or team parent knows the importance of a good soccer snack—a refreshing halftime pick-me-up that delivers the fuel and flavor you need to keep on kicking. Did you know that the right snack can also be a powerful hydrating supplement to your handy water bottle? Some of the best natural hydrators include tangy, satisfying oranges (88 percent water) and the aptly named watermelon (92 percent water). Iceberg lettuce (96 percent water) wrapped around small slices of turkey or chicken also makes for a great hydrating, protein-packed snack before, during or after your session.
Dress for cool comfort
Your soccer uniform can transform your experience on the field, especially on hot, sunny days, so be sure to dress the part! Even if you're playing solo for now, you can outfit yourself and your family with light-colored, breathable fabrics that are perfect for hot summer days and all year long. (Tip: Crafting your custom soccer uniform? SQ Apparel's moisture-wicking line of fabrics, Squadry, is perfect for keeping sweat away from your body on hot, humid days.)
Also be sure to throw on a cap to protect your head, face and eyes from the summer sun!
Scout your perfect spot on the field
Finally, choose the perfect spot to play! If you're lucky enough to live next to the water, a local beach can be an excellent spot for working out your legs and mixing up your soccer routine—plus, you'll be able to enjoy a beautiful breeze from the water. When working out at your local park, opt for the shady half of the field (another big benefit to getting out early, so you can have your pick of playing spots) and play against the wind for a powerful challenge and a much-needed cool breeze when you need it most.
Follow safety guidelines as you play
During these times of COVID-19, it's essential to follow safety and social distancing guidelines as you practice. Now is a great time to work on your solo skills or play with the family (as we mentioned earlier, getting to the field early will help you distance yourself and avoid the sun's harshest rays!). Sport a mask while engaging in athletic activity where you may run into other people, such as neighborhood jogs, and follow all safety and hygiene standards. Depending on your area, programs such as youth sports may return earlier or later; if you're back on the field with other players in any capacity, the CDC recommends steps like playing with smaller teams, limiting spectators and other nonessential participants and avoid any spitting, handshakes and unnecessary contact (of course, keep showing your sportsmanship from a safe distance!). View more guidelines here. And above all, if you are not feeling well, are immunocompromised or are susceptible to heat-related fatigue and other issues, simply stay home. The field will always be there for you, ready whenever you are.
With these tips and a trusty water bottle, you can enjoy your summer of soccer fun to the fullest! Prepare your wardrobe for the season ahead with custom soccer jerseys, hats and other go-to staples that are sure to help you stay cool and stylish this summer and beyond.