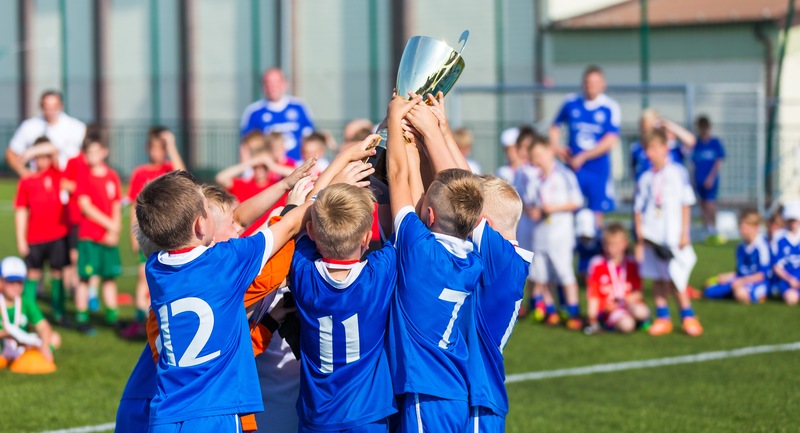 While you stay safe at home, you may be looking ahead toward the day you and your team return to the field—toward the thrill of scoring, support from the sidelines and every special moment in between.
As you imagine the day, what colors are your team sporting? It may seem like an afterthought to teams with an established color scheme—but the unique hue and color combinations of your uniform can play a larger role than you initially think. Read on as we explore the importance of color in your custom team soccer jerseys, and how to use yours to make a statement on and off the field.
Soccer meets psychology
Color and psychology go hand in hand, and we can see examples of this all around us. Red is often associated with passion, energy and boldness, for example—so perhaps it's no surprise that red is a favorite color of many sports teams! Blue conveys a sense of coolness and calm, making it a potentially perfect color option for teams who want to send the message that they're confident at ease about whatever opponent they may face. Purple, a creative color, is an out-of-the-box option for teams who want to set themselves apart from more conventional counterparts (plus, its associations with royalty lend an elite air to those who sport it on the field).
These are just a few of the ways color can help your team make a statement! Whether you're starting a new team or looking for ways to redefine your identity, knowing the basics behind color psychology can help you make an informed, creative choice.
Reflecting your local culture and environment
Your custom soccer uniform also gives you an opportunity to celebrate your local culture, environment or even wildlife. Pick a color that matches the plumage of your feathered team mascot, for example, or a beautiful blue that reminds fans and opponents alike of your home base by the water. The options are endless!
Fun flair
Colors can stay something significant about where a team comes from, or who they are—of course, they can also just be for fun as well! Get your creative juices flowing and consider color combinations that stand out and make a fun first impression: Think 80s throwbacks, neon color blocking and more.
The bottom line? Your custom soccer uniform offers you the opportunity to make a splash and a statement—so play around with possible color options until you find the perfect fit! Fortunately, you don't need to commit to a color to get a sense of what it will look like on your jersey. Simply use our online customizer tool to see different color combinations in real time, and be sure to contact SQ Apparel if you have any questions along the way. We're here to help!